Labeled without digital retouching! ! ! !
[between Latitude 12 ° 00′ N and 18 ° 00′ N]
[between Longitude 75 ° 00′ E to 109 ° 00′ E]
[between brackets]…A pose, without pause
A trip in a series of countries located between 10 ° 00 'N latitude and 18 ° 00'N and longitude 75 ° 00'E and 109 ° 00'E…
The project [between brackets] consists of several sets of three photographic portraits – a man, a woman and a child – made in India, Burma, Thailand, Laos, Cambodia, and the Viet Nam.
Each series will be accompanied by a text or a poem written by a native person of the country concerned.
Through these portraits, filigree, various topics will be discussed.
The portraits will be done on site. The person will be on a white background; isolated from the rest of its environment, it will be so 'brackets' in its natural setting, making a light jump, like Levitating, being suspended, a little as the time.
And if in these countries the colors are flattering, here they become unnecessary. The technique will be the film to the Hasselblad, forming 6 x 6 (120), in black and white to play on the contrast. A bias that will lead us directly to the essential, putting all the series in a Visual tie for most acutely in their confrontation.
Because without ethnographic or social search displayed, the comparison between these Asian countries should raise various issues, including can be inter change people and their environment? That is what makes the difference city, the campaign, the economy, social, religion, politics, education, culture, history…?
The text or poem every time by a local artist on his country will be able to complete the shots and may provide us answers.
Where the importance of this contribution written Western photographic vision, which commits us in a real Asia-Europe cultural exchange.
A part of the portraits primer without pomp and circumstance, snapshots at a time T; a humanistic photography, which is similar to a memory of the present time, a statement can be considered as a State of the art.
The other texts that will in fact all very different, with sensitivities, the words, the rhythms, questions or cross answers…
[between brackets] is a project where the look and the word mingle, complement, where cultures mix in the crossbreeding of two forms of free expression for offer us a pluralistic artistic vision. And help us to a better understanding of this part of the world…
Vietnam

«
In the shade of the green bamboo, my village lives happily,
Lulled by the sound of the vesper bells under the cloudless sky.
In the setting sun the farmers finish their work in the fields,
And with spade and plough on their shoulders, they return home.
Riding bareback on water buffalo, children blow into flutes,
Nonchalantly trailing one or two kites in the twilight.
On the edge of the rice paddies, fishermen stow nets and boats,
As straw smoke and fragrant wafts from cooking rice fill the evening air…»
Nuage Rose – Hong-Van DRION
Extrait du livre : « Trois Nuage au pays des nénuphars » – par l'auteur Nuage Rose ISBN : 9782748397628 – 250 pages – Autobiographie – Edition brochée – Editions Société des Ecrivains A propos de l'auteur :
Nuage Rose was born in Hà Nôi when the Vietnam war succeded the Indochina war. After obtaining a master's degree of French, she left Hà Nôi, to live in Aix-en-Provence, then in Paris until 1990. By a strange but happy "coincidence", she has been appointed to the embassy of France in Vietnam, then in Singapore. Since 2000, she lives again in Paris, whereas her two children, born in Paris, chose to live in Hà Nôi, following the
example of their maternal grandfather, half a century earlier …
Cambodia
I have seen the spirit descend on Banlung, dressed entirely in white. A white cape floated a respectable distance from his shoulders and in this way only accentuated the unreal nature of the apparition. He himself didn't touch the ground but remained suspended in mid air, as if the earth had the effect on his body of an opposed magnet. He looked directly at me, a silent smile wrinkling his cheekbones and, immediately, I understood. Without the slightest hesitation. As if in defence, my fingers snapped the photo but a second later a heavy green liquid, materialising from who knows where, appeared in the palm of his hands and while I began to murmur something that I myself didn't understand, he swooped at me. Still a metre above the ground, he swept me sideways off my feet before carrying me away into the air. For good.
Randal DOUC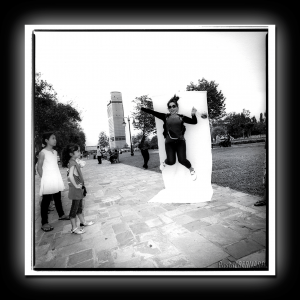 Phnom Penh women are bubbly and bouncy, nibbly and nippy, crunchy and chompy. They like to outdo themselves and, with clenched fists, break out of any framework should anyone try in vain to confine them. That's the way they are, Phnom Penh women, with their rustic side and their natural strength that fits them like a glove. If there's a strong wind, their stretchable skin expands like chewing gum and their limbs sprout in unsuspected directions, unknown to earthly gravitation. Yet, and this I know — it's part of their charm–, when the taste of new encounters has passed, they bring their hands together, raise them slowly to their forehead all the while a slightly mischievous smile etched on their lips and slowly turning to continue on their steady way, they rise up again and again as they face the setting sun
Randal DOUC
"Koy Tonsay", the Cambodians call it, which in English literally means "Rabbit Island". And even though there are no rabbits on this rocky spot, I allow myself to imagine that the island was so named for its inhabitants. Because, and this is a unique particularity in all the world, for day-to-day matters the inhabitants prefer to get about, both feet together, in little, graceful hops. Exactly… little rabbit hops. You people from the mainland, you are in the sensible habit of moving forward one foot in front of the other, and never, never ever, losing contact with dry land. Forget about that this time; indulge yourself! Especially if you get a feeling of great interior disorder, jump in Kep's boat and hop ravenously over to the island, letting the air support your feet, the wind your arms and, I assure you, after several leaps, your ideas will naturally fall into place under the combined effect of gravitation and the power of Coriolis!
Randal DOUC
Randal Douc is a French actor and mathematician, born in
Phnom Penh, Cambodia. Researcher in applied mathematics he
also teaches since 2007. There are also asserted himself in the the movie industry,
with a first appearance beside Isabelle Huppert in "Un barrage
contre le Pacifique". His texts were selected in diverse festivals bound to the
contemporary theatrical writing He writes the diptych Teuk Dey, the first of which « Les hommes désertés" was selected by the Commission of the Arts and
Creations of the Ministry of Culture in 2005.
Laos

In Louang-Prabang at twilight the sun hides behind the mountain little by little and the crowd makes its way to the banks of the Mekong.Some enjoy a swim in the river, others play noisily on the beach. While the girls are busy with their washing, the boys woo them by improvising gallant words to traditional tunes like "khap thoum Louang-Prabang " or " lam ". It's the time of day when the fishermen take their pirogues and go out to the middle of the river. One of the fishermen sits at the back of the pirogue and tries to stabilise it so that the other one is sufficiently balanced to throw his net. When the fishermen return the crowd rushes to meet the pirogues. There are shouts of joy and singing when the hardy boatmen show their catch. In the hills above the banks of the river the gardeners water their plots of vegetables. In the cool of a light breeze, the atmosphere is fragrant as the smell of herbs and the scent of indescribable flowers mingle.The time has come to return home.The sun slowly sets and bids the moon to take its turn making the Mekong sparkle…
Sourideth BOUPHAVICHITH
David Bouquet, in Laotian Sourideth Bouphavichith was born in 1961
to Louang-Namtha in Laos. He has spent a part of his teenage years in
Houaxay, in the region of the golden triangle and in Luang Prabang,
famous UNESCO world heritage city. He now lives in Paris.
He participated in the realization of a French-Lao dictionary published
at the end of 2013 to the YOU FENG editions. The project has been
introduced by professor Marc Reinhorn and entrusted by Vincent
Berment. Today he pursues a project of automatic translation of
south-east asia languages including the Thai, the Burmese, the lao,
the Cambodian, the Vietnamese…
I am happy you came to the exhibit and I thank you for your attention.
Let me introduce myself, I am from Thailand and at the time I am writing this I am 56 years old. In my life, I have had the chance to travel around the world and learn lot of things in each country visited.
Often, the old timers in Thailand and especially my mother who is now 82 years old, ask me how people live abroad, what they eat, if their food looks like ours, what their fruit is like, etc. I usually answer that food, and especially vegetables and fruit, depends on climate and each region of the world has its own climate. In some areas, it is so cold that water becomes ice, in some other areas, it is so hot and in others it rains a lot. Thus, there are plenty of different seasons for agriculture. On the other hand, although the food is different, the character of people is the same everywhere. For example, everywhere we can meet generous and egotistical people, brave and lazy people, nature lovers, homeless, violent or macho people, alcoholics, drug addicts and thieves. All these people have different activities but only one goal: survive. In some countries, there remain areas where nature is protected and preserved for tourism but also I hope for future generations who will be able to enjoy them, to learn from them.
Thailand is one of these countries. Thailand is known as Siam, the land of smiles. Thai people smile a lot to everyone, to the smallest and the tallest. It is a rule of life.
For my part, I also have some rules of life that have been passed on to me from
generation to generation:
• Do not lie
• Do not gamble
• Do not drink alcohol
• Do not steal, even if we find something it has to be given back to its owner
• Do not kill animals except to survive, and protect nature
• Know how to give without expecting anything in return
• Care for others before caring for yourself and consider others as members of your own family because we are all living in the same world and we need each other to live in peace
• Live simply without comparing your life to other's and without jealousy,
accepting what we have
Following these rules, we can feel happy and make our family happy, our relatives,
our entire country and even neighboring countries etc..I follow these rules for life and
I am happy. I hope all my readers will share this happiness reading this text.
I thank you all.
"If your heart is happy and free, you can travel everywhere"
Somboon PHOUNGDORKMAI
Somboon was born in Thailand. After studies at the art college of Thaivichisilp and
at Arts and crafts college of Poh-Chang, she became a teacher in the different schools
she used to learn. The emulation of the Van Group, a friends' band with whom Somboon exposed her vision of the society through surrealist works, decided her to leave definitively teaching and to devote herself exclusively
to her artistic projects. The images of Somboon were published in
various books.
 Burma
It was a day in September in 2007. It was cloudy. It was windy a little.
I thought it was going to rain. I was standing by the window. The road in front of me was almost empty for it was afternoon but a monk was walking in hurry on the road. The color of the robe he was wearing matched with the surrounding colors. Red dot in greenish gray. After awhile, one of my friends was rushing in my sight saying Monks were on the roads of Yangon for Democracy. He carried some other news with people's hope. It was raining now.
A few days later, he came again with a paper in his hand. After some time he said that something terrible was happening to the Monks. Silent occurred. Then he left me with folded paper.
It read,"Zephyr…..
People of the city of ashes
Some are running, some crying,
The truth was blocked by lies lies on nothing, trying
But people are going towards
For their dignity, solidarity, freedom of words
Passing……… Decades, centuries of the swords.
Colors are gray, dark
All are sculpturing a vow, solitary
All of sudden….WOOOOOOM!!!!!!!!!!!
A spark was seen from the city of ashes,
Zephyr carries the breeze to create storm
Some even can hear freedom's cry.
Be ready, rain drops can hurt you my city of ashes.
By The Citizen".
He never came back again. I don't know where he is now. He has made me to keep this for years. But I want you to know it is now spring my friend. Your zephyr did not bring us the breeze to create storm but the breeze of Democracy to bloom the bulbs in the spring.
Than Kyaw HtAY
Than Kyaw Htay was born in 1978 in Sittwe, Rakhine State,
Myanmar. He got a degree of the public School of Fine Arts. In
2000 he studied under the wing of Win Pe Myint.
He participated in several exhibitions in Rangoon among
which 4 solo exhibitions. He was also exposed in Hong-Kong, in
Thailand, in India, in Canada and in the United States. In 2015 he
exposes for the first time in France a series "silent sweatshirt"
being inspired by the Burmese proverb " A Man cannot live a
single day without water"

India
It is a poem that brought me to this country (inspired by The National pact*)

It is a poem that brought me to this country
A map of rough words, a field of empty seeds
The first line threw me into a well
Of floating foetuses, limbs and two-finger test kits.
I could not breathe.
India is my country and all Indians are my brothers and sisters
The second line was kind, pulled me out
in a town where
trees waited for men
men waited for night
women gathered to fight.
I could not breathe.
I love my country and I am proud of its rich and varied heritage.
I shall always strive to be worthy of it.
The third line flew me over a village where
snakes drank white rivers
hissed at unfaithful gods
and babies slept rocking
to heady songs.
I could not sleep.
                                   I shall give my parents, teachers and all elders respect
and treat everyone with courtesy.
The fourth linedrove meto a mall
of glass fantasies, debris and discounts
where families shopped on delusional credit
Money can buy you love, they said
Asthey dropped dead.
I did not say goodbye
To my country and my people, I pledge my devotion.
In their well-being and prosperity alone, lies my happiness.
The fifth line alone knew where I could lie
so it took me to the city that was lost
to hired demonstrators, aging monarchs and migrant labourers.
It is a poem that brought me to this country:
a bench in Gandhi park at East Fort
I could finally die.
Anupama Raju
* The National pact is an oath of allegiance to the Republic of the India. It is frequently recited by Indians in unison at public events, in particular in schools and during the celebration of independence. It is usually printed in the pages of textbooks.
Anupama Raju  was born in Chennai ( India) in a family of musicians. Lulled by the music during his childhood, Anupama becomes singer. But it is in the poetry she blossomed. Seriously She begins her writing in 2002. Since then, his work has been published in various publications , magazines and literary journals . Anupama has received awards for poetry competitions run by the British Council – Unisun ( 2006) and Prakriti Foundation ( 2008) Journalist Anupama writes about literature and writers for a very well known newspaper in India . The Hindu . She also works in the field of translation and loves translating news from Malayalam* to english.Son first book, a collection of his poems , 'Nine ' will be edited by Daastaan ​​Books. * Malayalam : traditional language of Kerala state in southern India
 brackets